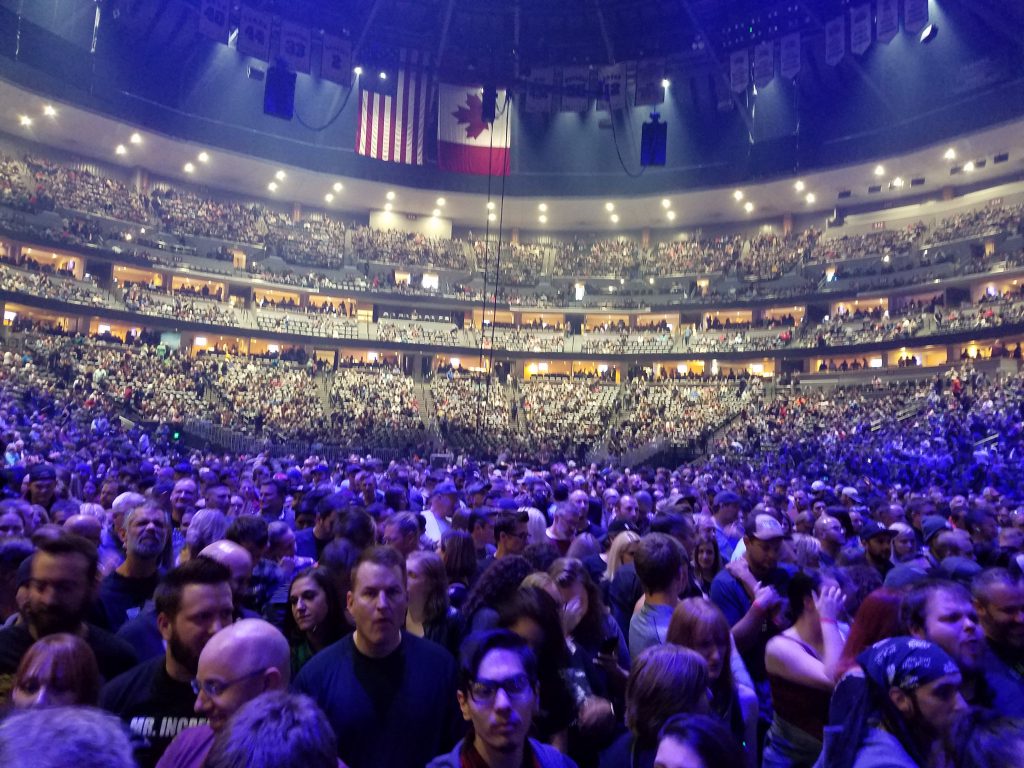 With the year coming to an end and no more concerts until 2019, it's a good time to reflect on all of the concerts I attended this year. This year there were some new bands and some new venues. One of the highlights of this year's concerts was seeing A Perfect Circle at Red Rocks. This was my first time seeing a concert at Red Rocks, and it was absolutely amazing! Some of the other new venues I saw shows at this year include the Summit, Coors Field, Sunshine Studios, and the Spokane Arena. The bands that I got to see live for the first time included Drowning Pool, Foo Fighters, Ozzy Osbourne, 10 Years and Red Sun Rising. I figured I would do a mini review of the year and break down of the concerts, since not all the 420 concert pictures have reviews.
Steel Panther – Fillmore Denver
I had a great time at this show! I went with my sister, her friend, and another mutual friend who also brought her son along with us. Though we got there later than I normally do when I want a good spot, we still ended up right in front up against the rail. This was my second time seeing Steel Panther and I must say that they are very entertaining and their songs crack me up! One of the highlights of the show was when I was smoking pot the lead singer kept coming over by me gesturing me to blow the smoke towards him! Check out the 420 picture I got from that show! They are definitely a band worth seeing live and I already have tickets to see them in 2019!!
The Offspring – Fiddlers Green Denver
I have 2 things I was disappointed with from this show. First I didn't get any pictures what so ever! Second this was supposed to be a taco/music festival and though they had a taco tasting early in the day (which I missed), none of the food vendors were selling TACOS that day! WTF!! Other than that this was my first time seeing The Offspring and they put on a great show! I was also surprised how much I enjoyed Pennywise, one of the opening bands.
Red Sun Rising – Black Sheep Colorado Springs
This was my first time seeing a show at the Black Sheep and I loved how intimate it was. Most of the shows I had been attending were big venues and going to The Black Sheep reminded me of when I was younger and would go to the small concerts venues with no name bands. They were small, which gave everyone a great view of the bands and an amazing experience. I especially liked when I was taking a selfie during one of the songs and the lead singer came in and got in the picture! Check it out on my 420 picture page.
Def Leppard – Coors Field Denver
This was my first time ever seeing a concert at Coors Field and to see, The Pretenders, Journey, and Def Leppard on the same night was great. I also went to this concert with my sister and dad which was nice to spend an evening out with them. I have seen both Def Leppard and The Pretenders a few times but this was my first time seeing Journey. I never saw them with their original singer Steve Perry, but the new guy, Arnel Pineda, seemed to do a great job and he sounded a lot like Steve Perry.
10 Years – Black Sheep Colorado Springs
I was really excited to see this show it was my second show at the Black Sheep and first time seeing 10 Years. Though 10 Years played a lot of good songs and the crowd was singing along I was slightly disappointed in the show and I can't put my finger on why exactly. However, the best part of the show was being close enough that I was able to reach right over and grab a guitar pick from the stage. I think if I had the chance to see them again I would probably go.
Godsmack/Shine Down – Pepsi Center Denver
I have seen Shinedown a few times but prior to this I had only seen Godsmack one other time. So, I was excited to see them again and they didn't disappoint! They played a good mix of some new songs and some of the classics! This was also a nice concert because both of my kids attended the concert with me. I know Godsmack has some tour dates in 2019 but so far none for Denver. However, I can say without any doubt if they come back through I will be there!
Buckcherry GenX tour – Colorado Springs
This was my first time seeing a show at Sunshine Studios and what an amazing line up. Alien Ant Farm, Lit, POD and Buckcherry! There are so many good stories from this night, but the one that stands out the most is when Alien Ant Farm was done with their set and handing out picks and drum sticks, the lead singer walked up to me and my daughter and handed us his drink! Just so random, like we were looking for a pick, but thanks for the drink! Lol! Aside from that I would have to say that POD stole the entire show! Their performance had the crowd pumped! They even brought a kid from the crowd up on stage to play the guitarists guitar.
Alice In Chains – Fillmore Denver
Up against the rail in the front row, it doesn't get any better! Growing up in Seattle and listing to Alice in Chains, they have always been one of my favorite bands. Met some great people at the show and collected a lot of picks that were thrown out in the crowd. My only regret is never seeing them with Layne.
What a great line up. Ozzy with Stone Sour opening! This was my first time seeing Ozzy and from what I remember he did amazing! Yes from what I remember I had a few too many drinks that night lol.
Foo Fighter – Pepsi Center Denver
This by far has to be the surprise concert of the year! I liked the Foo Fighters before I saw them, but was never much of a Dave Grohl fan, until I saw him live! He literally played every song I could think of and when the drummer and the guitarist did their solos, Dave sat on stage smoking while watching them. The feel was more like you were attending one of their jam sessions instead of a concert set. Dave Grohl put on an amazing show and turned me into a bigger fan of the Foo Fighters!
Drowning Pool – Sunshine Studios Live Colorado Springs
I think this show had one of the best crowds! Everyone was super into the band and the songs. The mosh pit was so crazy security had to come and stand in the pit to make sure things stayed under control, as there were a lot of fights breaking out. This was also the first concert I started recording full songs and my daughter caught that amazing footage of them singing Bodies! Check it out on my YouTube channel.
A Perfect Circle – Red Rocks Morrison Colorado
This was just an amazing show! Not only did they play songs like Judith and 3 Libra's but I got to see them at Red Rocks! This was my first time ever seeing a show there and to top things off, I won those tickets from the radio station!
Alice In Chain – Pike Peak Center Colorado Springs
This was the 2nd time getting to see them within about a month, but how can you pass up seeing Alice in Chains!? It was yet another amazing performance from Jerry and the rest of the guys in Alice in Chains.
Fall Brawl FFDP/Breaking Benjamin – Broadmoor World Arena Colorado Springs
I have seen both Five Finger Death Punch and Breaking Benjamin several times, and I always enjoy the performance and set lists both bands play. The seats we had for that show were also great, as we had a perfect view of the stage. More than likely I will see both these bands again next year since they seem to always be touring!
Stabbing Westward – The Summit Music Hall Denver
I only knew 2 songs before I bought my tickets and a week leading up to the show I listened to their set list and found that I liked every song they had on their set list. This made the show very enjoyable and the one of the best part, was standing outside waiting and being able to see the sounds check. Then to have the lead singer come to the doors where we were and sing to us was cool. You can check out the video on my YouTube channel.
Metallica – Spokane Arena Washington
Metallica is in my top 3 of all bands! What more do I need to say? They played an amazing set list and really engaged with the crowd. They were more than generous with their guitar picks, drum sticks and other memorabilia from the show. This was only the second time I have ever seen a band throw out handful after handful of picks. I was able to see them in a new venue with a great friend of mine! This was a great way to end the year out!
What a good year all and all! I am looking forward to 2019 as there will be more new venues and bands I am sure. So far 2019 looks to take me to North Carolina to see the Rockingham Festival. This will be my first time going to one of these festivals and I am really excited for the show. Other bands I already have lined up for in 2019:
Disturbed with Three Days Grace
Steel Panther
Corrosion of Conformity
Bob Seger
Kiss
Mudd Fest with Puddle of Mudd, Trapt, Saliva, Saving Able and Tantric
The Rolling Stones
Judas Priest
Plus the Rockingham Festival which has too many bands to list! But with headliners like Korn, Tool and the Foo Fighters you know it's going to be an amazing show!
Be sure to join my newsletter to get updates when new concert pictures are posted and subscribe to my YouTube channel to see the latest footage as well as my 420 clips! Don't forget to also like us on FaceBook.