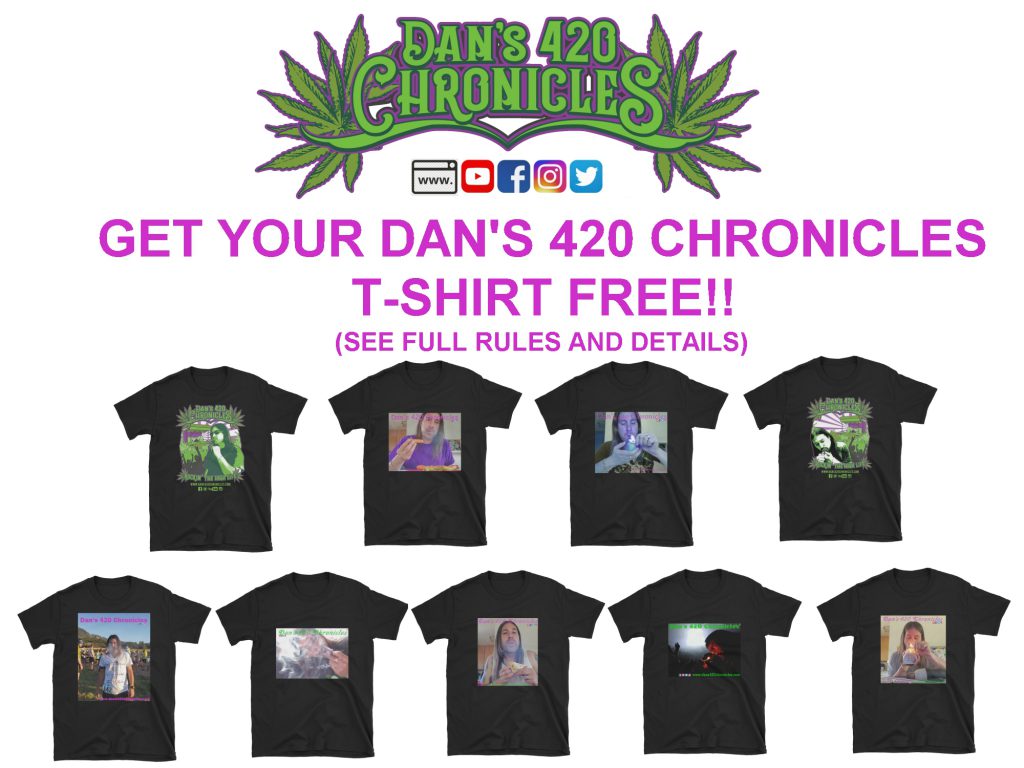 Get your Dan's 420 Chronicles shirt contest!!
NO PURCHASE OR PAYMENT OF ANY KIND IS NECESSARY TO ENTER OR WIN.
Open to legal residents of the United States Or European countries (where we ship to) who are 18 years of age or older. Void where prohibited. Odds of winning depend upon the number of eligible entries received during the Contest Period.
Rules & Details
The Winner Can Pick: Any short sleeve shirt listed in my 420 shop https://dans420chronicles.com/shop/. Sizes and colors are only available in the sizes and colors listed on the web site.
How to enter: After you subscribe to my YouTube channel or purchase something from my 420 shop https://dans420chronicles.com/shop/ message me on Facebook, Twitter, Instagram or email me (email is on the web site https://dans420chronicles.com/).
You May Enter More Than Once: You will be entered for every purchase made through my 420 shop https://dans420chronicles.com/shop/. If you make 4 purchases you will be entered 4 times and you can still subscribe to my YouTube channel for another entry!
If You Have Already Subscribed Or Purchased Something: Just let me know and once I confirm I will entry you into the drawing.
Earn A Double Entry: Refer a friend, just have them tell me you referred them and you will earn an extra entry and so will the person you are referring! So it's a win win for both of you!
All Entries: Must be submitted by 1/16/20 @ 12:00 AM mst
Winner Must Be Located: Either in the USA or EU country (where we ship to)
The Winner Will Be Selected: By random draw on 1/16/20
The Winner Will Be Announced: On www.dans420chronicles.com, Facebook, Twitter and Instagram on 1/17/20 @ 12:00 pm mst
(the winner may not be contacted directed so make sure you follow me on one or all the social media's mentioned above)
Once The Winner Is Announced: They will have 30 days to claim their prize or a new winner will be drawn
Prizes: Maybe exchanged for a prize of equal value (At the discretion of Dan's 420 Chronicles)
Prize Conditions and Restrictions: The Contest Prize is subject to certain terms and conditions as specified herein. Winner must comply with all rules and regulations. Failure to do so may result in forfeiture of prize in its entirety. The prize elements will be awarded as described herein (subject to legal restrictions, etc). If the winner is disqualified or is found to be ineligible for the contest, the Company reserves the right to determine an alternate winner or not to award the prize, at its sole discretion. By accepting the prize, Contest Prize Winner must agree to the prize conditions on participation and must sign a release to be eligible to receive a prize and hereby agrees that: (i) that all decisions of the Company, judges, and Contest Entities with respect to the Contest are final and binding; (ii) to release the Company, sponsors if any and their respective parent companies and affiliates, officers, directors, employees, agents, and licensees from any and all claims in connection with the Contest and the award or use of the prizes; (iii) to allow the Company to and sponsors to use their names, voices, photographs, likenesses, biographical material, in any advertising or broadcasting material relating to this contest, without additional financial or other compensation; and (iv) where allowed by law, sign a publicity release confirming such consent prior to acceptance of the prize.
The Contest Entities are not responsible or liable to any entrant or winner or any person claiming through such entrant or winner for failure to supply the prize or any part thereof, by reason of any acts of God, any action, regulation, order or request by any governmental or quasi-governmental entity (whether or not the action, regulations, order or request proves to be invalid)
If this contest goes well I will be do more with other prizes which could include tickets to a concert!
Thank you for your support if you have any questions please feel free to contact me through email or any of the social media platforms you follow me on!
Thanks again and good luck!!
Dan's 420 Chronicles